About Me
I have worked as a Gestalt therapist in private practice since 2014 and worked within the voluntary sector for Talk Matters and Wester Hailes Health Centre over 3 years and recently began working for Arkordia. I completed my training in Gestalt Psychotherapy at Edinburgh Gestalt Institute in 2013 and gained my accreditation for BACP in 2019. I have also worked extensively in the health sector, working both in mental health and general hospitals and health and in social care settings in the community. This has given me experience for connecting with a diverse range of people and challenges.
I have a BA in Creative Arts and have studied and worked using visual art, creative writing, voice, storytelling, dance and music. I work as an occasional performer within Scotland. Expressing myself creatively is a way I have grown, got to know myself and worked through my issues. I have found that the body, voice, creative imagery and writing can be an important tool for grounding the process of self exploration and in giving it wings, to fly. At times these tools feed into my client work with a degree of experimentation and curiosity.
I have practiced mediation for 20 years and found it also to be a foundation and resource for deepening awareness and compassion. I live in a semi rural setting and love to spend time in nature which helps me remain connected, grounded and embodied in the world. I love making good food, connecting with others as well spending time with myself. I am passionate about the healing power of relationship and know first hand how much it can restore our own natural capacity for living and loving.
In my journey with Gestalt therapy, I have developed a greater understanding of who I am, why I am, and what I am, in a different way than I gathered in other avenues of self discovery. It has supported me to connect more deeply to myself and others in my relationships and it is my aim, to bring this to my meetings with clients.
I am in regular supervision and am continually developing myself as a therapist in research, reading and training. I am fully insured, and am an accredited member of British Association for Counselling and Psychotherapy (MBACP) and confidentiality, compassion and respect are essential to my way of working.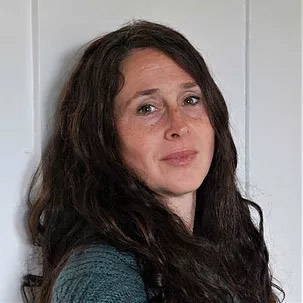 "Why did it take me so long to let go, simply exhale, so that the day could breathe itself in and open without me standing in the way?…. Let me practice a a patience so bold enough to hold every weather , trusting the elements, the beauty of rain, all shades of grey. I want whatever's real to be enough and master the art of loving it: feel it love me back under my skin." Linda France